Posted by Lynn Dreisilker on Oct 11th 2022
How to find a replacement motor for motors beginning with 5KCP29
Customers come to us everyday asking us for a motor replacement in which the motor's model numbers begin with 5KCP29.
How did the 5KCP29 model number come about?
In the past, GE was the primary manufacturer of this line of motor. However, GE no longer manufacturers these motors and the 5KCP29 line is produced by Genteq. Genteq is a division of Regal Rexnord, which also owns Century, Fasco, Leeson, Marathon, and many other brands of motors.
What do the numbers and letters mean in 5KCP29?
We'll help explain the meaning behind the 5KCP29 HVAC motor model numer. The 5 represents that the part is a rotating device, or motor. The KCP in 5KCP29 means that the motor is a Permanent-Split Capacitor motor. And lastly, the 29 indicates that the motor is a 42 frame motor. The 42 frame is a standard NEMA (National Electrical Manufacturers Association) size, meaning that these motors have a 5" diameter body.
How do I find the correct replacement for my 5KCP29 model motor?
When looking for a replacement for your 5KCP29 model motor, it's important to have as much information as possible. Often times, customers do not realize that the motor's model number is more than the 5KCP29 prefix. It's a 13 digit number on your nameplate. We've highlighted an example model number below on a nameplate for your reference.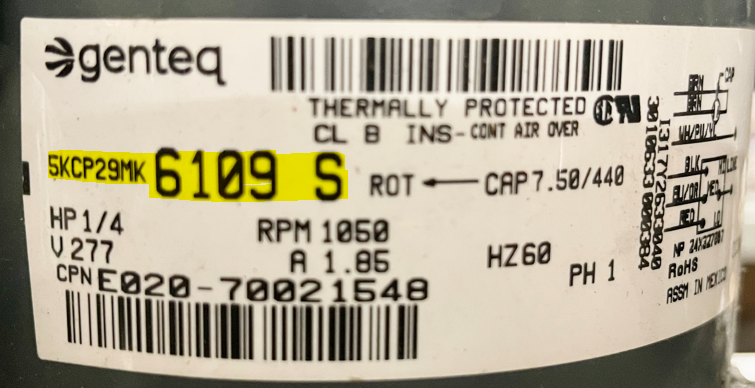 Can I search by my full 5KCP model number on your site?
Yes, you can key in the full 13 digits into our website and see whether or not we have a match. However, there are hundreds of model numbers out there and we may not have all of them crossed. That's why we are at the ready to cross reference these 5KCP29 HVAC motors for you. We've been in business since 1955 and have the motor experts at the ready to find you the correct replacement.
Let us do the hard part. Send us your information and we'll find the correct 5KCP29 motor for you.
Plus take off 5% of your order with promo code: MotorBlog5
Here are some cross referenced 5KCP29 motors for you:
Looking for help? Let the Motor Experts cross your 5KCP29 motors for you.
Plus take off 5% of your order with promo code: MotorBlog5